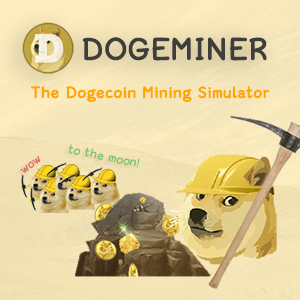 This is a free online game, it features various units, some interesting upgrades, different power-ups, resources, etc. Like any other click game out there Dogeminer is all about hiring workers, it is all about collecting resources and expanding your business. Like I have said before the game is free to play, it is also important to note that game has the ability to automatically save game progress, you can play for however one day, shut down your PC, and continue the other day from the same exact spot.
How to play:
Usually, click games are all about buying upgrades and hiring more workers, Dogeminer 3 is a little bit different, unlike traditional objectives and options you can also grab different power-ups, there are artifacts as well, and other unusual things for click games. This is exactly why I love it so much, this game is not ordinary, it is not boring at all and somehow it always manages to offer something new, something extraordinary and outstanding. You will appreciate this feature as well once you will get used to the game.
Units and workers:
There are so many different units in the game that your head will feel dizzy at first, it will take a while to get used to the game, in time you will discover that a lot of units unlock from time to time, you will also notice that randomly various units appear in your inventory. There are chances to get rare but powerful units, make sure that you check your shop frequently.
Starting units are weak, but they cost little as well, you will have to start the game from Mining Shibe, once you will collect some coins you can get Doge Kennels, after that Slave Kittens, and so on and on until you will reach your final objective.
The game is all about progress, the game is all about collecting coins, usually, the final objective is not as interesting as the process of the game itself, we all love to collect coins right?
Upgrades:
We covered units, now it is time to talk about upgrades, what kind of benefits they have, etc. Upgrades are a very handy and interesting part of the game, in fact, for many gamers, this is their favorite feature for obvious reasons. Upgrades make the game more entertaining, they help us to improve existing units and they can help us to improve our statistics. Mission to reach the Moon is not easy at all, it is one thing to just buy units and a completely different story to buy upgrades for existing workers, if you want to succeed in the game you will have to use this feature.
Locations:
There are various locations in the game, the starting point is, of course, Earth, once you will achieve high results you can move your mining industry to the Moon and continue your business there. Moon gives you an opportunity to collect more coins, it gives you the option to buy different units, get completely different upgrades and artifacts as well. You know it is always interesting to switch locations, this way the game stays unexplored all the time, there is something new in it all the time, I just love it, what about you?
Tips and tricks:
Usually, click games are not really hard at all, sooner or later you will be able to reach an objective no matter how bad you are at it, it is all about time and not about skill at all. I want to give you tips which will help you to save time that is all.
The number one tip is to avoid upgrade of click value, no matter what you never focus your attention on this upgrade, it is useless, it is time-consuming, and not fun at all. Upgrading click value would mean staying on the game screen all the time and clicking on Doge all the time, this is a total headache don't you agree? It is more enjoyable to focus on automated income, automated income allows you to minimize the current browser tab and do something else, after that you can come back to the game, buy upgrades or units and minimize it again. This way the game is more enjoyable.
Another tip is to pay attention to upgrades, you must visit this tab from time to time and find new available upgrades and buy them. Upgrades in some cases can double your income, this way you will be able to complete objectives a lot faster, this way you can reach the Moon in no time.
Guide on YouTube:
Take a look at the following video, this player managed to achieve fantastic results, just look at the coins per second stat, crazy right?
Mobile gaming:
If you don't use a computer that much often you can download this game on your device and play it from there. A pretty convenient method of gaming actually.
Conclusion:
This is an awesome game, it has various features, various different options, and interesting units. Unlike other traditional click games, Dogeminer 3 has unusual features, unique missions, and hundreds of different units (including power-ups, artifacts, and other items as well). The game is really interesting and it is very popular as well, you can checklist of trending games and you will always find them in top positions.
Play online for free Bloons Tower Defense 5 Unblocked, an awesome tower defense game with a lot of upgrades, a lot of maps, a lot of towers, and other cool features, more details can be found below.
So first of all this game was developed by Ninja Kiwi, this version is the fifth and it is the latest currently. The previous four versions were awesome as well, but this one has some amazing new updates which include: more towers, more upgrades, more maps, new game modes, an achievement system, in-game currency, the possibility to improve your tower's performance, and many more. The game is super complicated and has a lot of different features, there is so much cool stuff in it that you might even get confused, but in time you will figure out most of these features.
The game also has awesome graphics and even better sounds, all those explosions, and sound effects are on a high level and leave a pleasant experience. It is also important to note that the game allows you to save all your progress, you can safely turn off the game and continue from the same spot tomorrow, it is a very comfortable and handy feature for gamers.
The game is also available on phone (both Android and iStore are supported) and it is 100% free, to be honest, it is a lot more comfortable to play BTD 5 from a phone rather than from a PC, the main reason for this is a touch screen, it makes playing more comfortable compared to the mouse.
This is probably the best tower defense game in the world at the moment and if you love this category you will definitely enjoy playing the BTD series.
---